Unlock the power of PDFs with just a few taps on your iPhone or iPad. Say goodbye to bulky paperwork and hello to seamless digital document management! With PDFelement, you can effortlessly create, edit, annotate, and convert PDF files right from your mobile device. But before we dive into all the amazing features this app has to offer, let's start with the basics: setting up your personal Apple ID. In this blog post, we'll guide you through the steps of downloading PDFelement from the App Store using your own Apple ID. So get ready to revolutionize how you handle PDFs – it's time to take control!
How to set up your personal Apple ID
Setting up your personal Apple ID is the first step towards unlocking a world of possibilities on your iPhone or iPad. Here's how you can get started in just a few simple steps.

First, open the App Store on your device and click on the "Sign In" button located at the top right corner. If you already have an existing Apple ID, you can skip this step and sign in with your credentials. But if you're new to Apple, tap on "Create New Apple ID."

Next, choose your country or region and review the Terms & Conditions before proceeding. It's always important to read through these agreements thoroughly to ensure you understand what you're agreeing to.

Now it's time to fill in some personal information such as your name, email address, password, security questions, and date of birth. Make sure to use a strong password that includes a mix of letters, numbers, and special characters for added security.

Once all the necessary details are entered correctly, tap on "Next" to proceed. You will then be prompted to enter payment information; however, if you prefer not to provide this at this stage or do not have one available yet – don't worry! Simply select "None" as your payment method.

Finally! You'll receive an email from Apple asking you to verify your account by clicking on a link provided within that email. After verification is complete – congratulations! You now have successfully set up your personal Apple ID.

With an active Apple ID ready at hand – let's move forward and dive into downloading PDFelement from the App Store so we can start leveraging its amazing features for all our PDF needs!

Stay tuned for our next blog section where we guide you through the process step by step!
How to download PDFelement from the App Store
When it comes to downloading PDFelement from the App Store, the process is quick and easy. First, make sure you have your personal Apple ID set up on your device. If you don't have one yet, you can create a new Apple ID directly from the App Store.

Once your Apple ID is ready, open the App Store and search for "PDFelement" in the search bar. You'll see the official app listed as PDFelement – The Best PDF Editor for iOS in 2023 by Wondershare Technology Corp. Tap on it to access its download page.
On the app's download page, you will find information about its features and ratings from other users. Take a moment to read through those if you're interested. When you're ready to proceed, simply tap on the "Get" or "Download" button.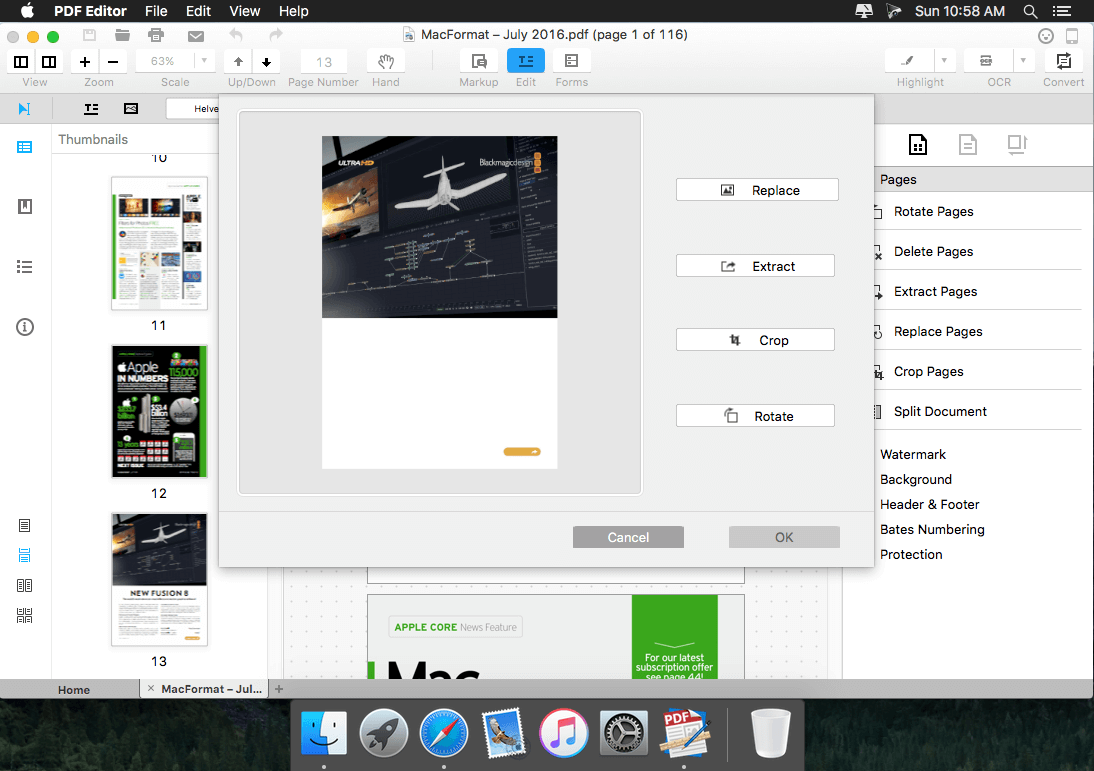 Depending on your device's settings, you may be prompted to enter your Apple ID password or use Touch/Face ID for authentication before initiating the download process.

The app will start downloading immediately and once finished, it will appear on your home screen alongside all of your other applications. Simply tap on its icon to launch PDFelement and start using this powerful tool for editing and managing PDF documents right at your fingertips!

With just a few simple steps, you can have access to an incredible tool like PDFelement that allows you to edit text in PDFs effortlessly, annotate important documents with ease, convert files into different formats without any hassle – all while maintaining their original layout! So why wait? Get started today and experience seamless productivity with PDFelement!
How to use Wondershare PDFelement
Wondering how to make the most of Wondershare PDFelement? Look no further! This powerful tool is packed with features that will revolutionize your PDF editing experience. Here's a breakdown of some key functionalities and tips on how to use them effectively.

First and foremost, PDFelement allows you to easily edit text in your PDF documents. Whether it's fixing a typo or updating important information, simply click on the text you want to modify and start typing. It's as simple as that!

Need to add an image or logo to your document? No problem! With PDFelement, you can easily insert images into your PDF files. Just select the desired location for the image, choose the file from your computer, and voila! Your document will instantly look more professional.

Collaborating with others on a project? PDFelement has got you covered there too. You can add comments and annotations directly onto the document, making it easy for everyone involved to provide feedback and suggestions.

Another great feature of Wondershare PDFelement is its ability to convert scanned documents into editable text using OCR (Optical Character Recognition) technology. Simply import a scanned document into PDFelement and let it work its magic – transforming those static images into searchable text!

These are just a few highlights of what Wondershare PDFelement has to offer. Whether you're a student needing to annotate lecture slides or a business professional looking for advanced editing capabilities, this software has something for everyone.

So go ahead, and explore all that Wondershare PDFelement has in store for you – unleash your creativity and efficiency when working with PDFs like never before!
Alternatives to PDFelement
When managing and editing PDF files, there are several alternatives to consider if you're looking for options beyond PDFelement. Each alternative offers its own unique set of features and functionalities that might better suit your specific needs.

One popular alternative is Adobe Acrobat Pro DC. Known for its powerful tools and extensive capabilities, Adobe Acrobat Pro DC allows users to create, edit, convert, and sign PDF documents with ease. It also offers advanced security features and seamless integration with other Adobe Creative Cloud applications.

Another option worth considering is Foxit PhantomPDF. This software provides a range of editing tools, including text editing, image editing, and document merging capabilities. With its intuitive user interface and robust feature set, Foxit PhantomPDF is a reliable choice for both individual users and businesses alike.

For those seeking a free alternative, Nitro PDF Reader is an excellent choice. While it may not have as many advanced features as some paid options, Nitro PDF Reader still allows users to view, annotate, and fill out forms in their PDF documents effectively.

Other notable alternatives include Smallpdf which focuses on simplifying the process of working with PDFs online; Sejda which offers an extensive collection of editing tools; and SodaPDF which combines ease-of-use with comprehensive functionality.

With these alternatives at your disposal in addition to the impressive capabilities provided by Wondershare PDFelement itself , you have plenty of options when it comes to finding the perfect tool for your PDF management needs
How to Create a New Apple ID using Wondershare PDFelement
Creating a new Apple ID is a simple and straightforward process, especially when you have the right tools at your disposal. With Wondershare PDFelement, you can easily create a new Apple ID directly from within the app itself.

To start, open PDFelement on your device and navigate to the "Tools" section. Here, you will find an option to create a new Apple ID. Simply click on it and follow the on-screen prompts.

You will be asked to provide some basic information such as your name, email address, password, and security questions. Make sure to choose a strong password with a combination of letters (uppercase and lowercase), numbers, and special characters for added security.

Once you have entered all the required details, click on "Create Apple ID" and wait for the verification process to complete. You may be prompted to verify your email address by clicking on a confirmation link sent to your inbox.

After verifying your email address, congratulations! You now have a brand new Apple ID that you can use not only for downloading PDFelement but also for accessing various other apps and services available in the App Store.

Remember to keep your Apple ID credentials safe and secure by using unique passwords and enabling two-factor authentication whenever possible. This way, you can ensure that your personal information remains protected at all times.

So why wait? Start exploring everything Wondershare PDFelement has to offer with your newly created Apple ID today!
Conclusion


In this digital age, having the right tools at your fingertips is essential for productivity and efficiency. PDFelement by Wondershare is a versatile and powerful app that allows you to easily manage your PDF documents on your Apple device. By following the simple steps outlined in this article, you can set up and use your personal Apple ID to download PDFelement from the App Store.

With PDFelement, you can seamlessly annotate, edit, convert, and sign PDF files with just a few taps on your screen. Its intuitive interface makes it easy for both beginners and experienced users to navigate through its features effortlessly.

However, if you're looking for alternatives to PDFelement, there are other apps available that offer similar functionalities. Some popular options include Adobe Acrobat Reader DC, Foxit MobilePDF – Edit & Convert, and GoodReader. Each of these apps has its own unique features that may better suit your specific needs.

If you're considering creating a new Apple ID using PDFelement itself as mentioned earlier in this article, keep in mind that it's an optional feature offered within the app. It provides convenience for those who prefer managing their accounts directly from within the application.

In conclusion (although we said we won't use "in conclusion"!), whether you choose to use Wondershare's PDFelement or explore alternative options mentioned here or elsewhere online, having a reliable app for managing your PDFs on the go is crucial. So go ahead and take control of your documents with ease using the power of technology right at your fingertips!